New Construction High Rise Condos/Apartments in Fourth Ward Charlotte NC
New High-rise Condos/Apartments in 4th Ward, South End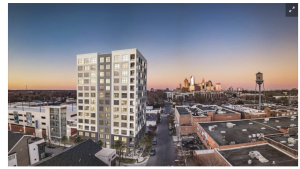 Two new projects in the Queen City indicate there is no slow down for Charlotte's luxury and high-end condo/apartment development.
Carolina Development Group is planning a 37-story residential tower for Uptown that will feature up to 350 units and 5,000 square feet of commercial space. It is currently undecided if it will be condos for purchase or apartments for rent.
The proposed tower is at 10th and North Smith streets — right off of Graham before the 277 underpass.
Brett Krueger, who represents the seller group, said they are "working with the seller and buyer to get the building approved with the city."
The property is currently a metal fabricating shop (industrial use) which Brett says isn't the best fit for uptown. However, everyone he's talked to about what should be there has voiced support for condos, he said.
"There's demand for retail and condos. As developed as it is, there's still a shortage of (residential) real estate in uptown," Brett says.
If approved, and if the units are for sale instead of apartments, it will be the first major condo project Uptown since the recession.
Additionally, like the Vue, this tower will be offset from the rest to really provide incredible views and a great location with easy access to highways and the beautiful fourth ward.
"I am most excited as to the direct exposure this building will have on I-277 as well as residential and commercial opportunities I believe it to be the best investment in Uptown Charlotte," Brett says.
He explained that at that particular location, it'll be one if the first things you see driving into the city, so the potential for retail in that space makes a lot of sense.
The site still needs approval for rezoning before the design and timeline are firmed up.
A 13-story, 71 unit apartment tower named "Hawk" is coming to South End right next door to Superica, Barcelona Wine Bar, Hawkers and Jeni's Ice Creams. Ram Realty Advisors, the development company behind the project, will soon break ground on the project with a grand opening set for summer of 2020.
The unique project will sit on top of 6,200 square feet of retail and will only have six units per floor, giving it a super exclusive feel.
The project has a modern look yet still manages to seamlessly blend into its surroundings.
The building is set to open in the summer of 2020.
"Ram's vision is to bring a level of living to the epicenter of South End that doesn't currently exist," Ram Realty Advisor's Director of Development Rachel Russell Krenz told the Agenda. "Hawk is a carefully planned community for distinguished residents who live private, aspiring lifestyles."
RAM seems to be sparing NO expense when it comes to this project.
The lobby will have marble floors, brass mailboxes, top notch lighting, walls clad with indigo silk and walnut wood veneer.
The units will have beautiful, wide plank flooring reminiscent of European oak and expansive warehouse-style windows. Kitchens include state of the art French-door refrigerators, gas ranges, custom walnut cabinetry, brass and black hardware and quartz countertops. The bathrooms will have luxurious freestanding soaking tubs and even a separate toilet rooms.
Unit options will include studios, two bedroom and three bedroom layouts. Additionally, the project will have a pedestrian bridge so residents can utilize the adjacent parking deck.
The Design District is without question the most desirable location in South End (and arguably the city) right now.
With hotspots such as Barcelona Wine Bar, Jeni's Ice Creams, Superica and Hawkers blowing up — the Hawk puts residents right in the middle of the action with top notch finishes and construction quality.
"RAM's investment in South End continues to add to the neighborhood, and this project will provide a new kind of residential option right in the heart of a retail-rich and walkable area," said Megan Liddle Gude, Director of Historic South End for Charlotte Center City Partners.